DESCRIPTION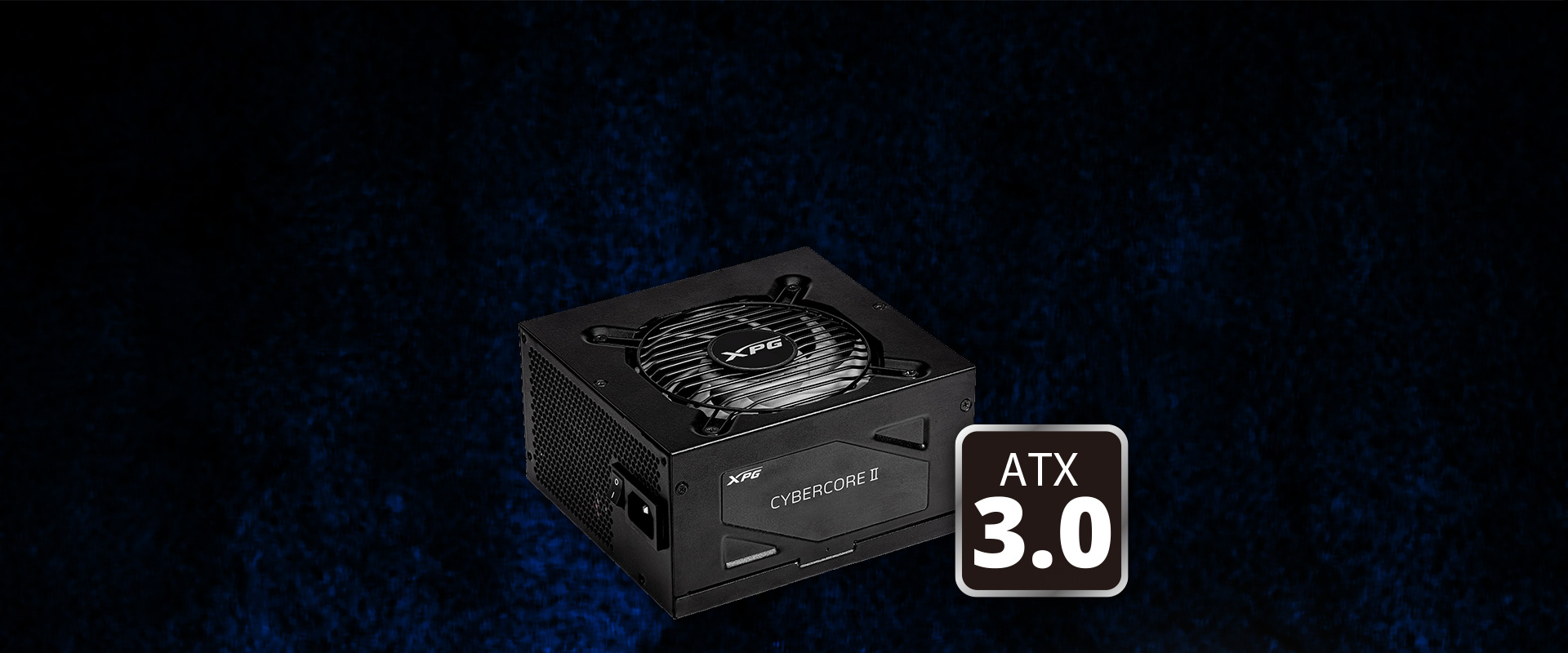 Next-Gen Ready
XPG CYBERCORE II series power supply units are compatible with Intel ATX 3.0 design guide specifications. All units come with a 12VHPWR connector as well. Upgrade your system to an ATX 3.0 ready power supply and be fully prepared for the next generation of high-performance components! Whether you're a gamer, creator, or AI developer, an ATX 3.0 PSU is the new standard for future hardware. Don't get left behind.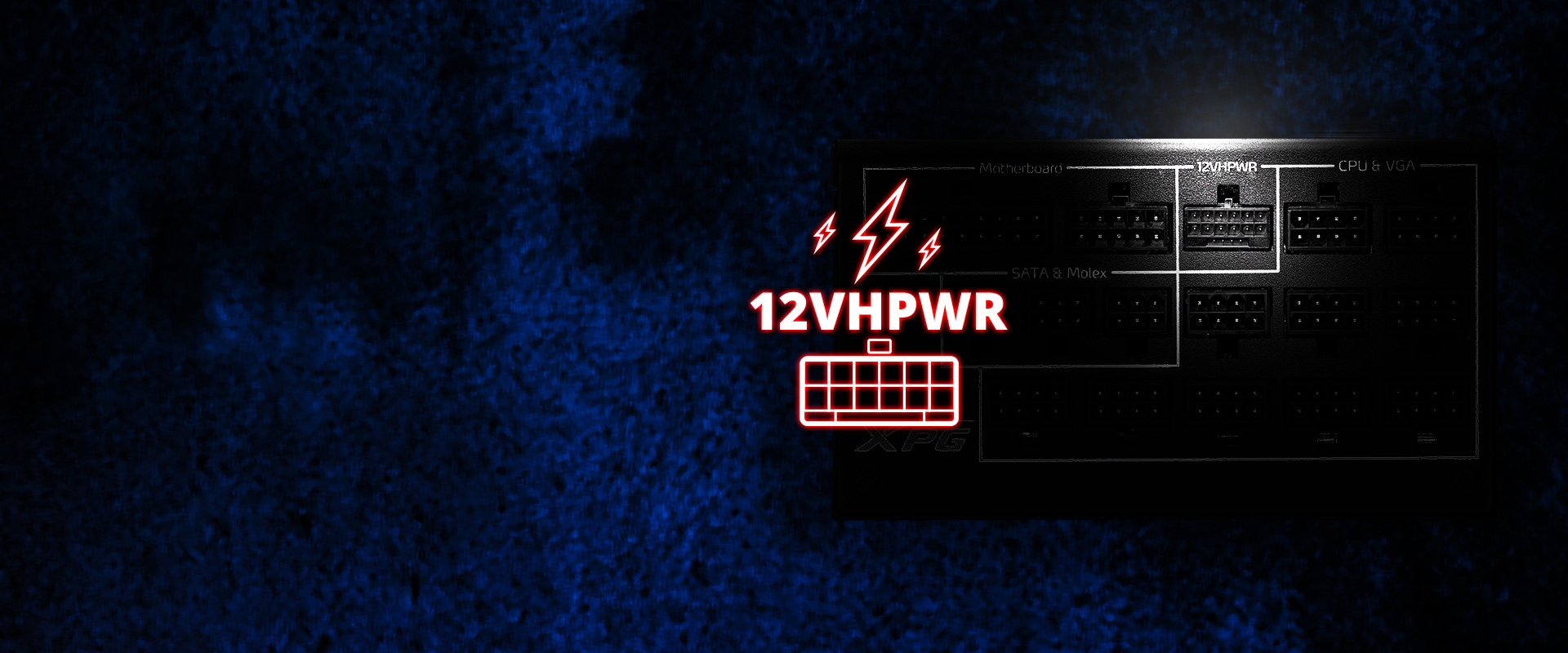 Supports Next-Gen Graphics Cards
XPG CYBERCORE II is compatible with the latest high-end graphics cards, with a 12VHPWR (12+4 pin) connector out of the box with every unit.
Cybenetics ETA PLATINUM and LAMBDA A- Certified
XPG CYBERCORE II series is certified by the highest Cybenetics quality standards. All configurations have achieved ETA PLATINUM grade while still maintaining LAMBDA A- rating for the noise even with our most compact form factor, reaching A- with 230V for the 1300W version. This is a statement of our commitment to deliver the absolute best performance for all of our PC users.XPG CYBERCORE series is certified by the highest Cybenetics quality standards.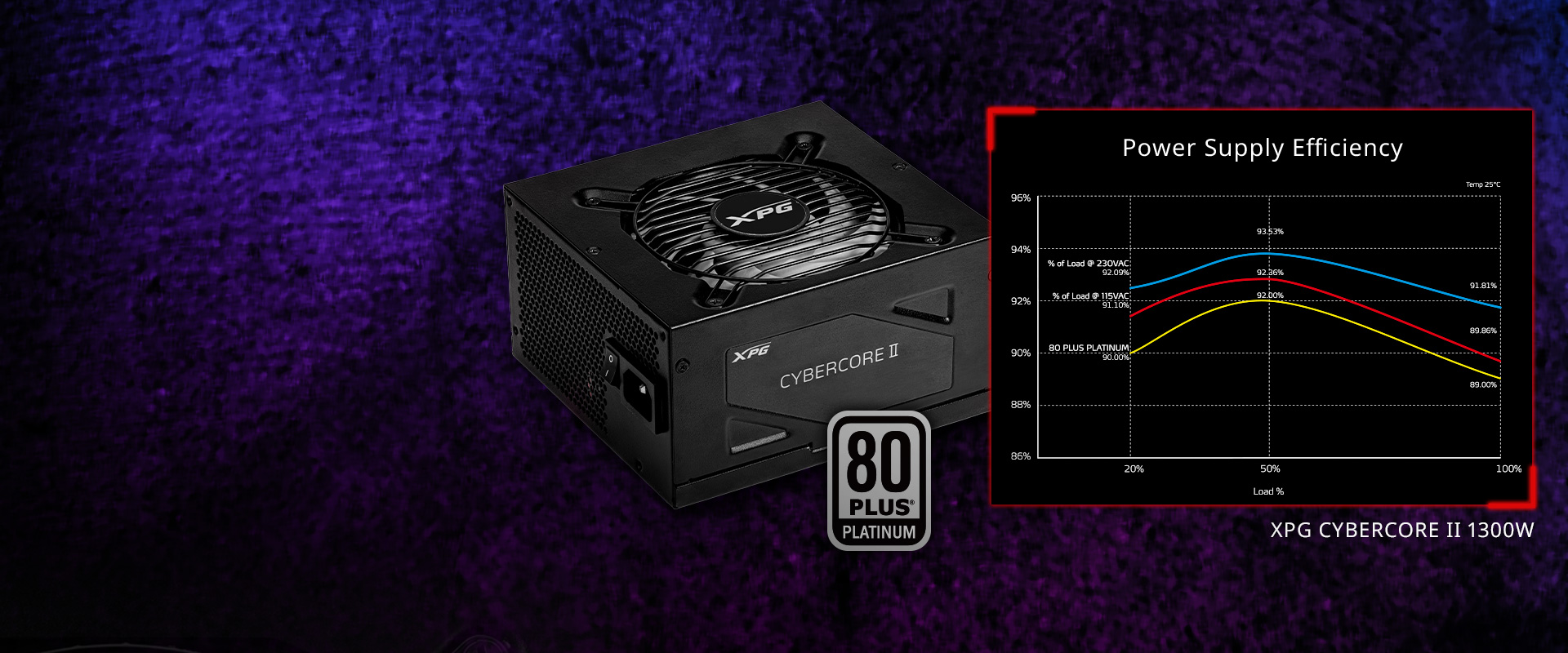 80 PLUS PLATINUM Efficiency
XPG CYBERCORE II series' efficiency achieves 92.91% 115VAC at 50% load (temperature at 25℃), delivering exemplary performance even by 80 PLUS PLATINUM standards.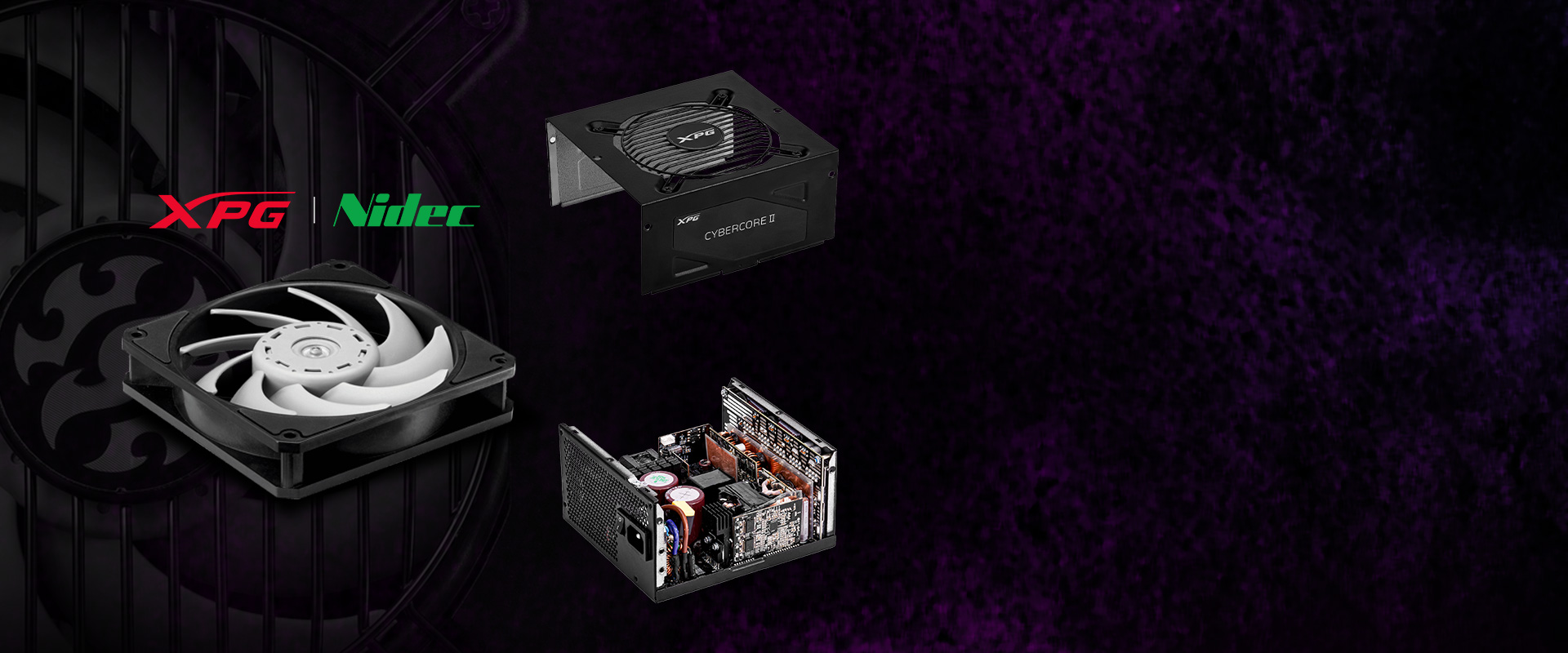 XPG VENTO PRO 120 PWM FAN by Nidec
XPG CYBERCORE II is the latest XPG and Nidec collaboration, utilizing our highest tier XPG VENTO PRO 120 PWM Fan for its high cooling efficiency, featuring Dual Bearing and patented technology to maintain an excellent balance between noise and life expectancy (60,000 hours at 60℃).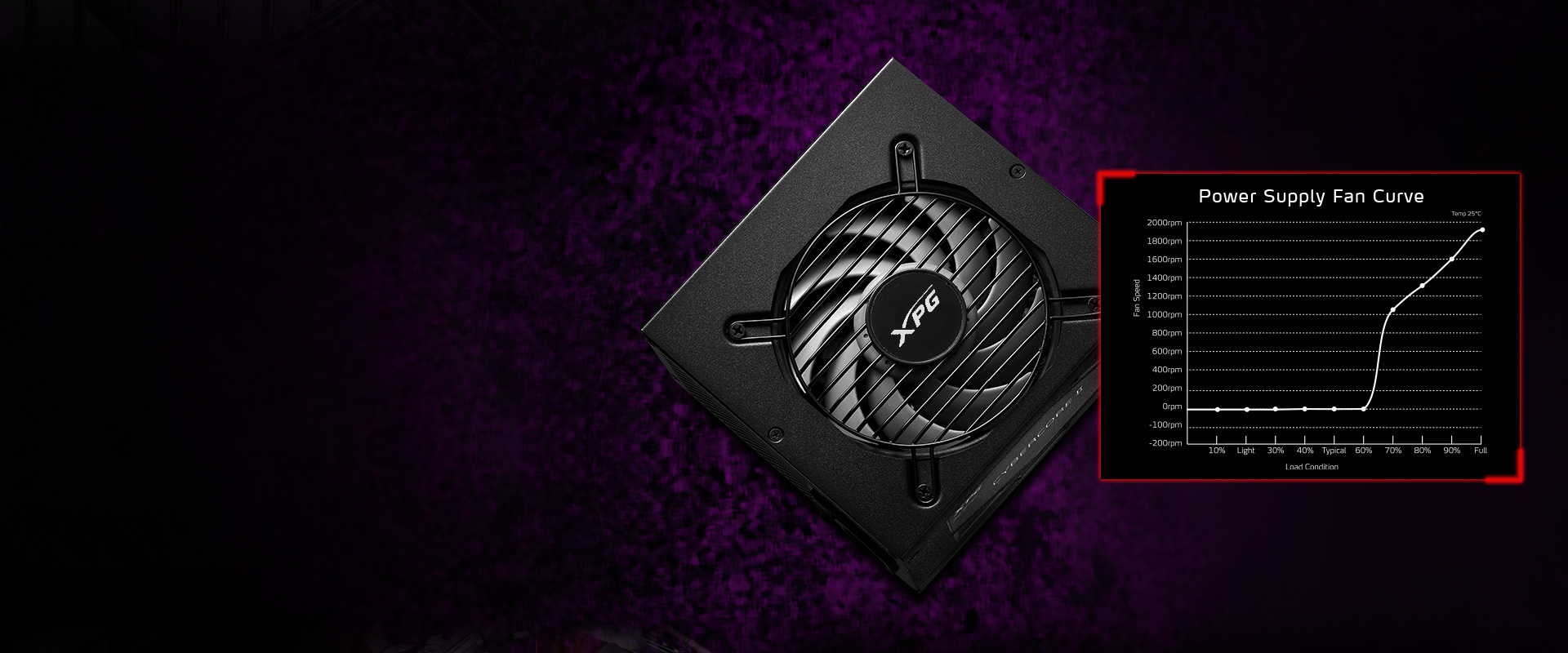 Efficient Fan Curve
XPG CYBERCORE II series' fan curve is intelligently designed to prolong fan life expectancy and minimize fan noise.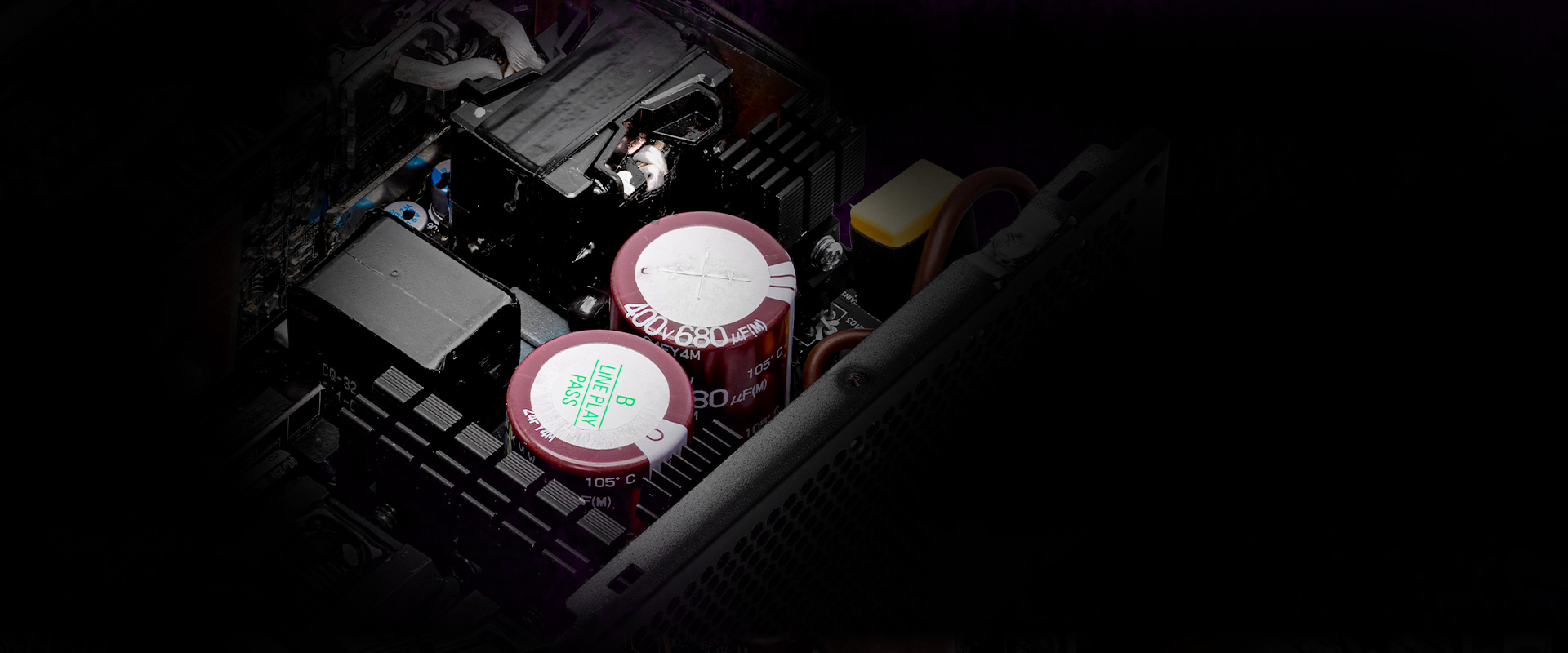 All Japanese 105℃ Capacitors
XPG CYBERCORE II PLATINUM Series utilizes all-Japanese high quality 105℃ capacitors to ensure power delivery is stable, consistent and efficient.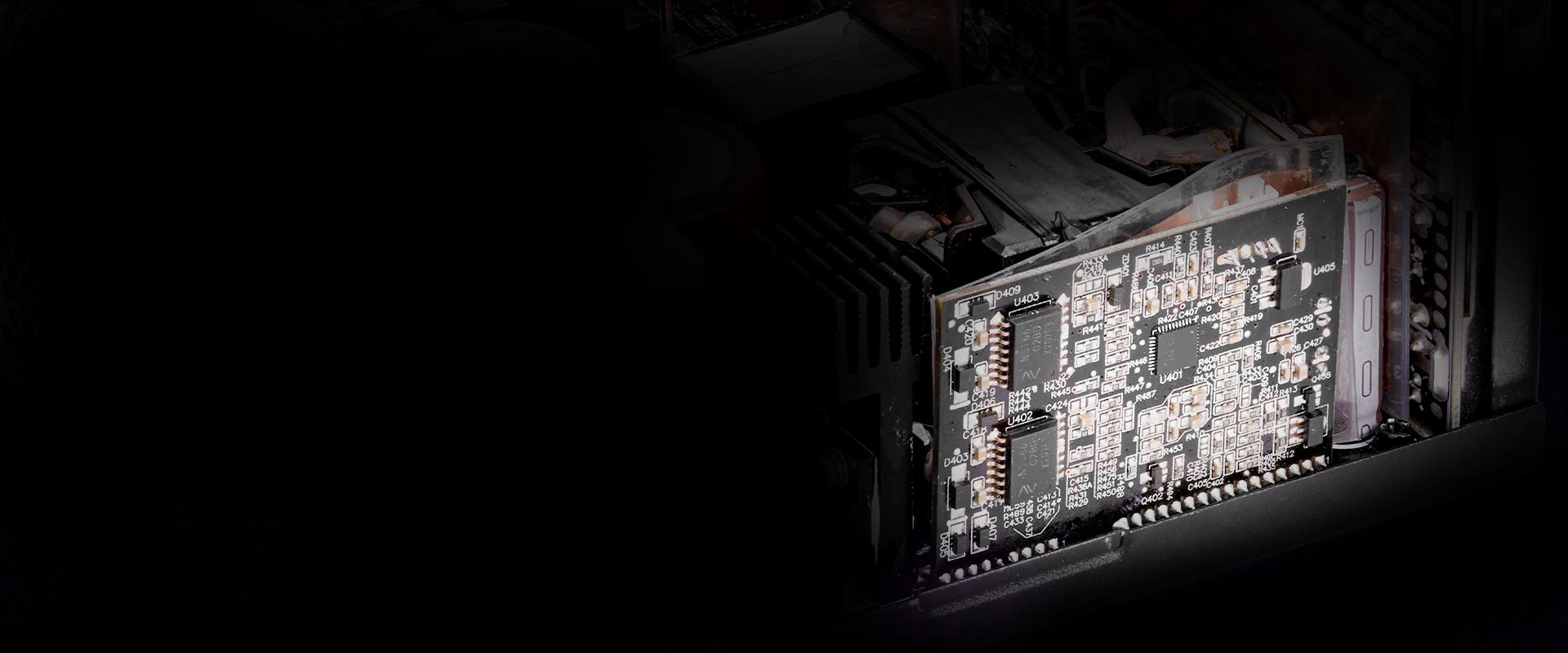 Digital Control Panel in a Compact Form Factor
XPG CYBERCORE II PLATINUM PSU's power delivery efficiency is optimized via Digital Control Panel. It controls, commands and optimizes power delivery's efficiency and stability, ensuring the process is stable but also accurate, helping protects other components as well, all within such a compact form factor (LxWxH) 160x150x86mm, making it an extraordinary creation of a PLATINUM-grade power supply by XPG.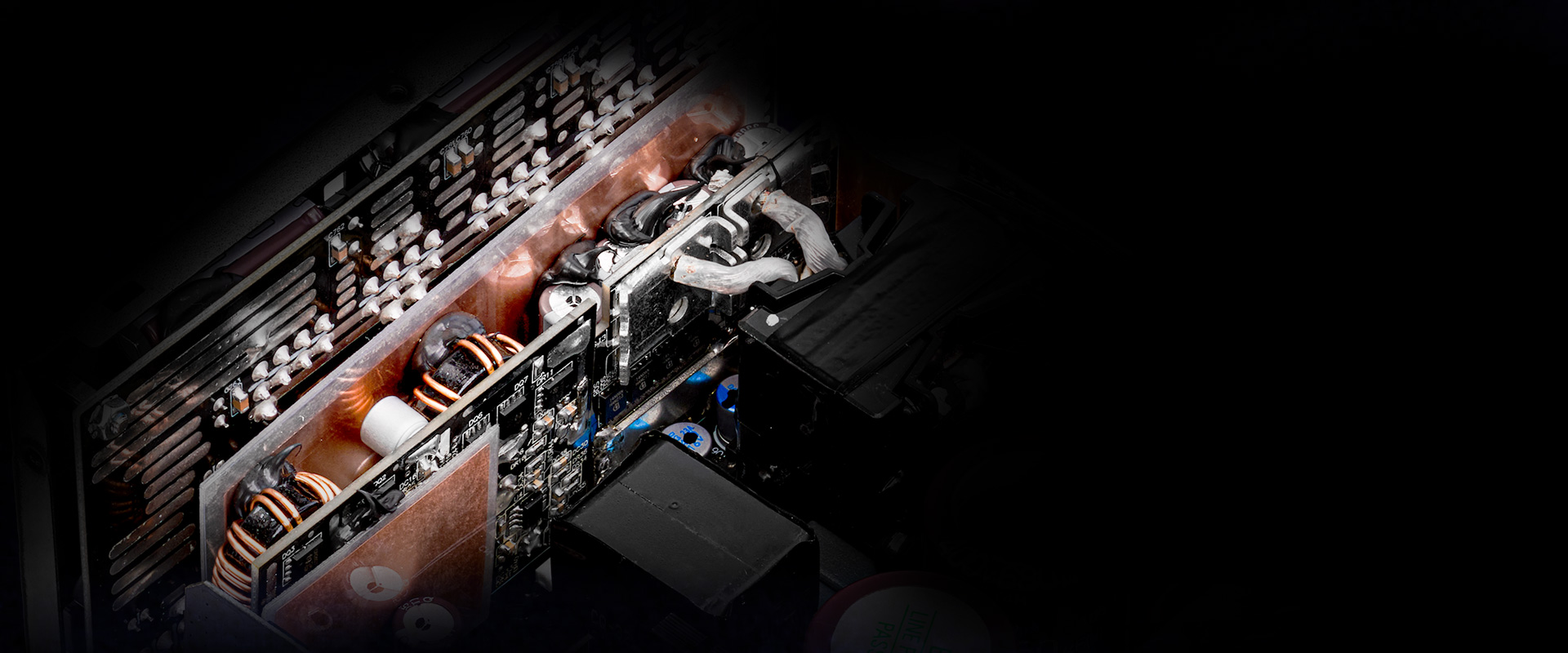 DC-to-DC Circuit Design
DC-to-DC Circuit design minimizes ripple noise, avoids unbalanced power load, and acts as a protective safeguard to components' life expectancy. Ultimately, XPG CYBERCORE can achieve smooth and stable power delivery.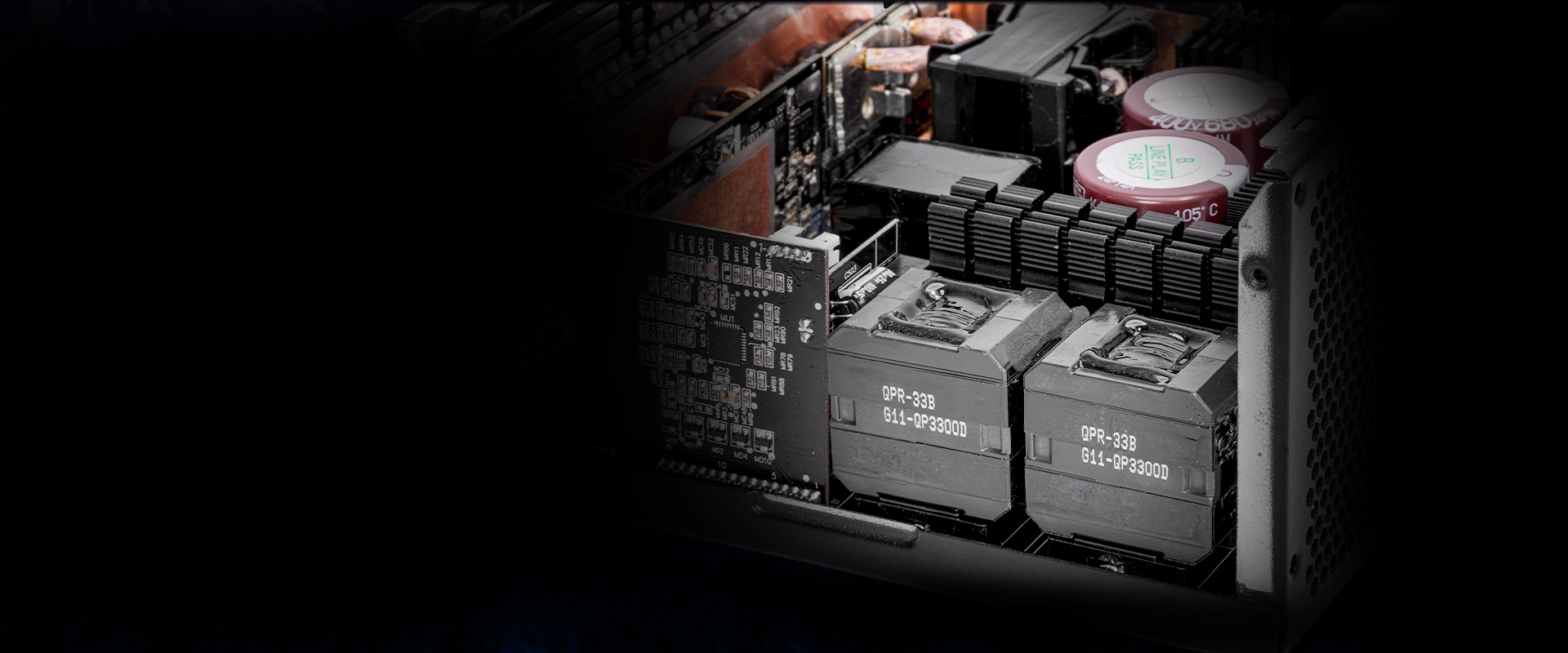 Interleaved PFC
XPG CYBERCORE II Interleaved PFC (Power Factor Correction) regulates and stabilizes voltage, and distributes power at its optimal efficiency, leveraging 2 chokes that alternate each other, reducing power loss during conversion. XPG CYBERCORE II series' PFC is Active, meaning it provides more efficient power efficiency, automatically correcting AC input voltage (full range).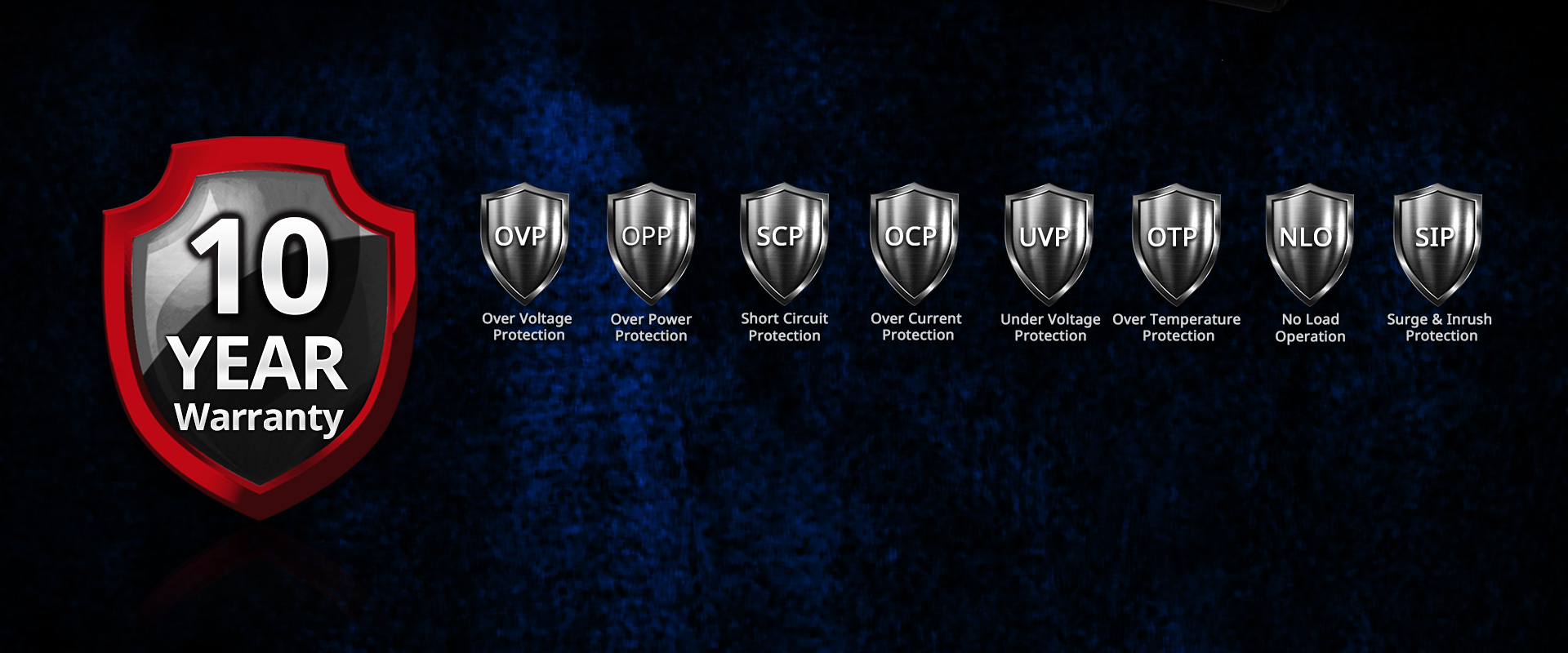 8 Industrial Protections with 10-Year Warranty
XPG CYBERCORE II is protected by 8 industrial-level mechanisms and backed up by a 10-Year Warranty to ensure the safety and stability of both the unit and the system.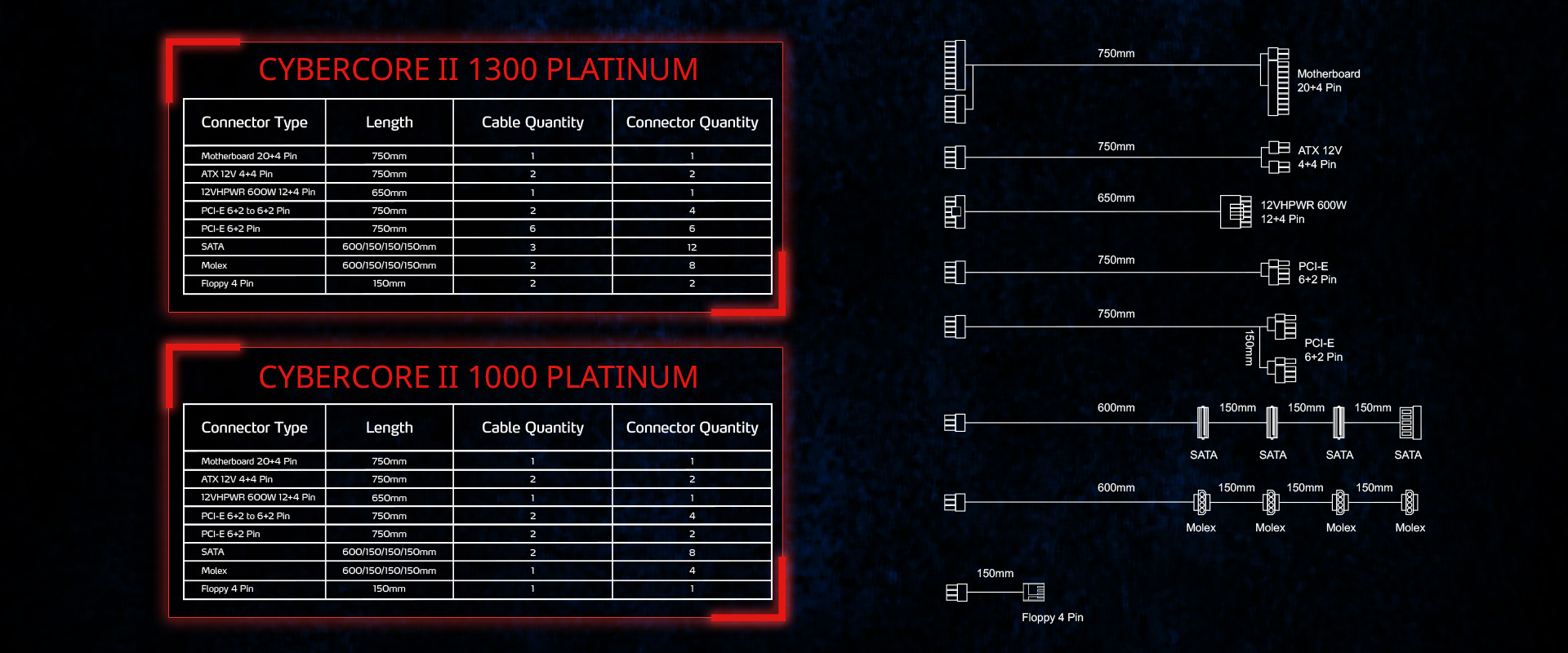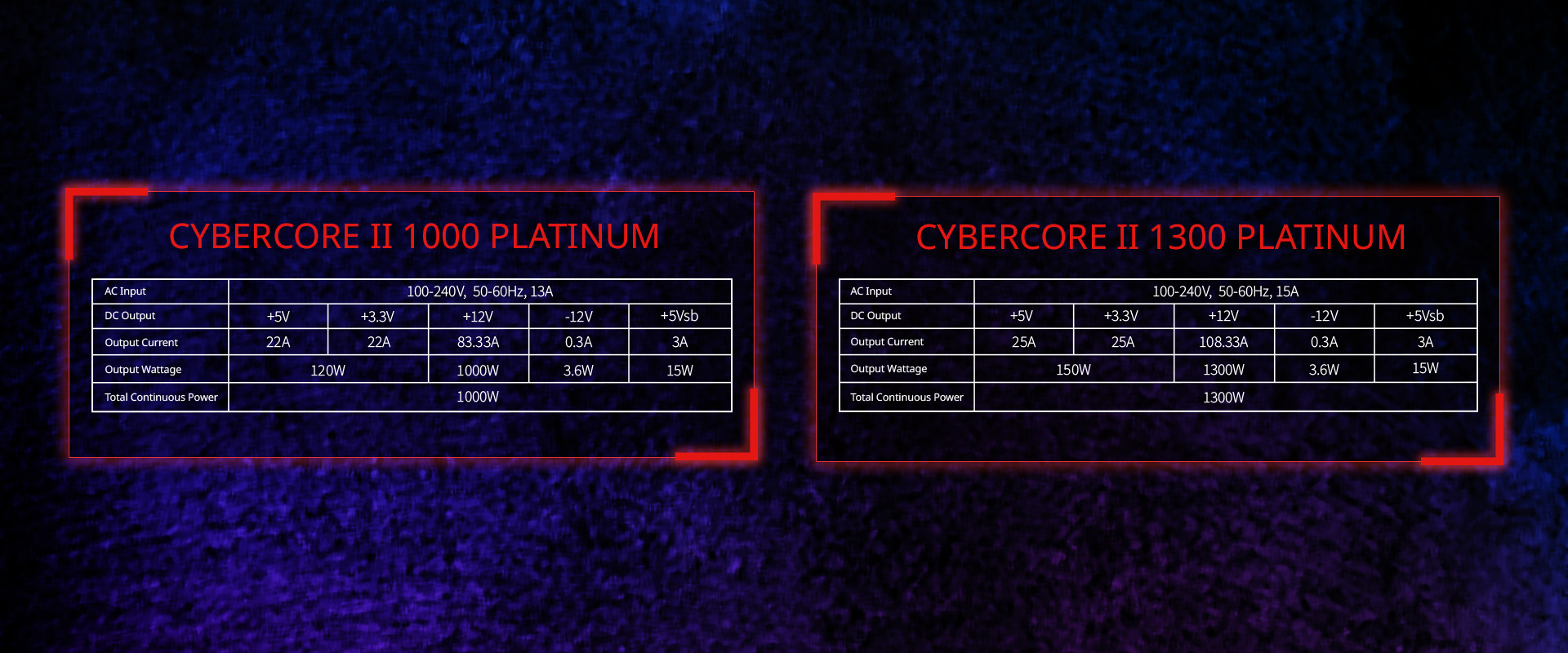 Dimensions (L x W x H)
160 x 150 x 86mm
Cybenetics Rating
PLATINUM
80 Plus Rating
PLATINUM
ATX Version
ATX 3.0
Protections
OCP | OVP | OPP | OTP | UVP | SCP | NLO | SIP
Certification
CE | CB| FCC(IC) | TUV | cTUVus | TUV S-Mark | NOM | BSMI | UKCA | EAC | CCC | RCM
PFC
> 0.99
Input Voltage
100-240V
Input Current
(1)1300W:15A
(2)1000W:13A
Input Frequency
(1)1300W:50-60Hz
(2)1000W:50-60Hz
DC Output Voltage
+5V | +3.3V | +12V | -12V | +5Vsb
Total Output
(1) 1300W
(2) 1000W
Power Excursion
1000W: 2000W (*up to 200% of the PSU's rated power for 100μs)
1300W: 2600W (*up to 200% of the PSU's rated power for 100μs)
Operating Temperature
50°C
Fan Size
120mm
Fan Bearing
Double Ball Bearing
Fan Speed
2,150 RPM
MTBF
125,000 hours @ 25°C
ATX 24 Pin Connector
1300W:1
1000W:1
EPS 8 (4+4) Pin Connector
EPS 8 Pin Connector
1300W:2
1000W:2
PCI-E 6+2 Pin Connector
1300W:10
1000W:6
Molex 4 Pin Connector
1300W:8
1000W:4
12VHPWR (12 + 4) Connector (600W)
1
12VHPWR (12 + 4) Connector (450W)
SATA Connector
1300W:12
1000W:8
Floppy 4 Pin Connector
1300W:2
1000W:1
Weight
1000W:
Product+cables:1.96kg+1.35kg (4.32lb+3.0lb) ±5%
with Package:4.13kg (9.1lb) ±5%
1300W:
Product+cables:2kg+1.94kg (4.4lb+4.2lb) ±5%
with Package:4.6kg (10.1lb) ±5%
Warranty
10 Years
remark